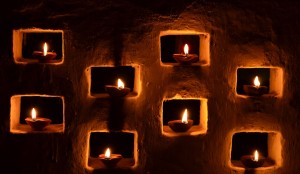 On Sunday the Hindu community around the world celebrated Diwali, the festival of lights. While this festival celebrates the triumph of good over evil, of light over darkness, it also reminds us of that light within us from which flows love, compassion and concern for the other. In the glow of this triumphant light, we celebrate this year the twin feasts of All Saints and All Souls.
The Catholic Church invites us on these days to remember all those that have gone before us – adult and child, man and woman, family and friend, neighbor and stranger, saint and sinner. It is a time to remember and celebrate. It is a time to mourn and to rejoice. It is a time to intercede and to give thanks.
It is a time, too, for us to ponder on the reality and mystery of death. How do I experience death? How do I perceive death? What happens after death? Our cultural and religious beliefs largely shape our answers to these questions. While all faiths and cultures recognize the finality of death, there is a marked difference in what people believe happens after death. Some see it as a transition to a more glorious permanent place (heaven). Others see it as part of the continuing cycle of birth, life, death and rebirth. Some see death as the means by which they enter into union with the Divine. Others simply see it as returning "home".
Joseph Cardinal Bernardin, in the concluding chapter of his book The Gift of Peace, writes:
I do not know what to expect in the afterlife, I do know that just as God has called me to serve him to the best of my ability throughout my life on earth, he is now calling me home. Many people have asked me to tell them about heaven and the afterlife. I sometimes smile at the request because I do not know any more than they do. Yet, when one young man asked if I looked forward to being united with God and all those who have gone before me, I made a connection to something I said earlier in this book. The first time I traveled with my mother and sister to my parents' homeland of Tonadico di Primiero, in northern Italy, I felt as if I had been there before. After years of looking through my mother's photo albums, I knew the mountains, the land, the houses, the people. As soon as we entered the valley, I said, "My God, I know this place. I am home." Somehow I think crossing from this life into life eternal will be similar. I will be home.
This week and this month let us take a moment each day to remember all those who have gone before us, all those on whose shoulders we stand today. Let us give thanks for the lives they lived. Let us pray that all may find peace and be truly at home.
READ: Gone From My Sight – Henry Van Dyke
WATCH: Standing on the Shoulders – Joyce Rouse
CONSIDER: Different cultural or religious approaches to death and dying