"Compassionate of heart, gentle in word, gracious in awareness, courageous in thought, generous in love." (John O'Donohue)
At the end of this week we celebrate Mother's Day. It is a day to honour the love our mothers shower upon us, to give thanks for their constant support, to acknowledge the endless hours of selfless toil, and to respect the care and concern they have shown us. It is a day when we give thanks to God for the gift they are to each one of us, to our family and to the whole society.
It is significant that this week in Lent we are presented with the stories of two amazing women. The first is the Samaritan woman that Jesus meets at the well (Jn 4:5–42) and the second is Mary at the Annunciation (Lk 1:26–38). Both women model for us the disposition that is required to be a disciple.
The two stories have so many parallels. Both women are taken aback by their initial encounter with the Divine. Both express an unworthiness, feel troubled and ask 'Why me?' Both are offered the 'gift of God'. Both recognise the gift that is being offered and respond in their own way with the words, 'May your word to me be fulfilled.' Both women, by the choices they make and accepting the gift offered to them, bring others to a recognition of who Jesus is.
We are offered this 'gift of God' every day. For many of us, that encounter with God doesn't come in a dramatic way; it is, instead, offered to us in the daily rhythm of our lives. The opportunities for encounter are presented in the people we meet, the stories we read and hear, the music and poetry we enjoy, in the budding of trees, the smell of the morning air, the ebb and flow of the ocean and the sky filled with clouds. The gift is to welcome and accept the other in love as neighbour. The gift is to recognise that we are being offered that same 'living water' so generously and abundantly.
Saint Joseph, who we celebrate this week, is a model of discipleship and fatherhood for us. He listened to the Word. He was courageous in his response. He was gentle and generous in his care and love for Mary and Jesus.
This week, let us be gentle in word and generous in love. Let us recognise the 'gift of God' we are being offered. And let us, like Mary, say, 'I am the servant of God.'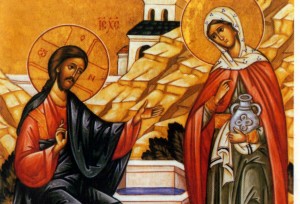 REFLECT: The Woman at the Well – A gripping modern interpretation by Reidland Tucker
WATCH: Magnificat (All That I am) – David Haas
CONSIDER: The Stations of the Forest on International Day of Forests (March 21)