'Compassionate of heart, gentle in word, gracious in awareness, courageous in thought, generous in love.' (John O'Donohue)
This is the last week of Lent before Holy Week. Jesus, through his public ministry, was raising the dignity of people. He was casting aside the heavy burdens that were placed upon them; he was bringing the Good News to the poor; he was binding up hearts that were broken; he was proclaiming liberty for captives and setting the downtrodden free; he was comforting those who mourned and giving sight to the blind. The chief priest and Pharisees, threatened by the growing relevance of Jesus, began to scheme and plot to eliminate him. They justify their actions, claiming that it is better 'that one man die for the people than that the whole nation perish'.
This is an appropriate time to remember people all over the world who have endured and are enduring imprisonment, harassment and persecution because of their beliefs, ethnicity, gender or sexual orientation. How aware are we of people that endure such suffering?
The United Nations asks us this week to remember the victims of genocide, especially those from Rwanda. Genocide continues to this day in countries such as Syria, Iraq, Myanmar and Sudan. Global organisations like Amnesty International have championed the rights of prisoners of conscience around the world. There is growing awareness in many countries of sexual and gender-based abuse and violence.
Pope Francis, through his Worldwide Prayer Network, has highlighted the need to remember and pray for persecuted Christians around the world. He has sought the help of every Christian to support persecuted Christians through the prayers and material help of the whole Church, the one Body of Christ.
As we approach Holy Week and Good Friday, let us remember to hold in prayer the suffering Body of Christ in the world today. The Body of Christ stands crucified in the millions of people who are harassed, persecuted, imprisoned and killed because of their religious conviction, their political affiliation, their economic condition, their social status, their gender or sexual orientation.
Let us offer this suffering Body of Christ the words that Jesus spoke when he raised Lazarus from the dead – 'Unbind him, let him go free.' (Jn 11:44)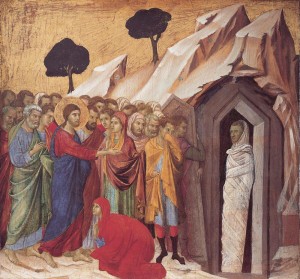 READ: A day of reflection on the genocide in Rwanda – Beth K. Leonard
WATCH: The Pope's Video – Praying for Persecuted Christians
CONSIDER: Some concrete action action—however small—to reach out to the "crucified" Body of Christ in your neighborhood or the world at large. Spend a moment in prayer for the downtrodden; donate to an organization upholding the rights of the oppressed; volunteer with an organization that champions the rights of victims of violence and abuse