The Pope's video for February draws our attention to the plight of refugees, the homeless, the poor and the marginalized. He makes an impassioned plea for us not to abandon those in need and to make them feel welcome and comforted in our communities.
This speaks to us all the louder in the context of the recent executive order from the President of the United States and the impact it has had on so many people seeking refuge in the United States. We have seen ordinary people on the street, world leaders, politicians and religious leaders weigh in on this matter.
However, long before this recent development, Pope Francis, speaking to a group of Christian and Lutheran pilgrims from Germany, said that the world needs Christians to witness God's mercy "through service to the poorest, the sick [and] those who have abandoned their homelands in search of a better future for themselves and their families." He added, "You cannot be a Christian without practicing the Beatitudes. You cannot be a Christian without doing what Jesus teaches us in Matthew 25 … It's hypocrisy to call yourself a Christian and chase away a refugee or someone seeking help, someone who is hungry or thirsty, toss out someone who is in need of my help."
At this time in nature, we see the first signs of spring—the fragile daffodil breaking through the winter-hardened soil, the little bud of green on the bare tree, the lengthening of the day and the warming of the air.
Can we hear the call to welcome life? Can we acknowledge the need to be the warmth to encourage hope? Can we welcome and comfort "someone who is in need of my help?"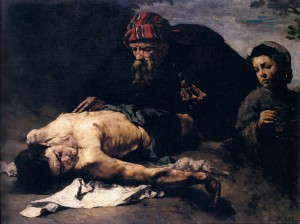 READ: The Beatitudes and Matthew 25:31–46
WATCH: The Pope's video for February
LISTEN TO: Home by Warsan Shire
CONSIDER: Standing with the Refugee